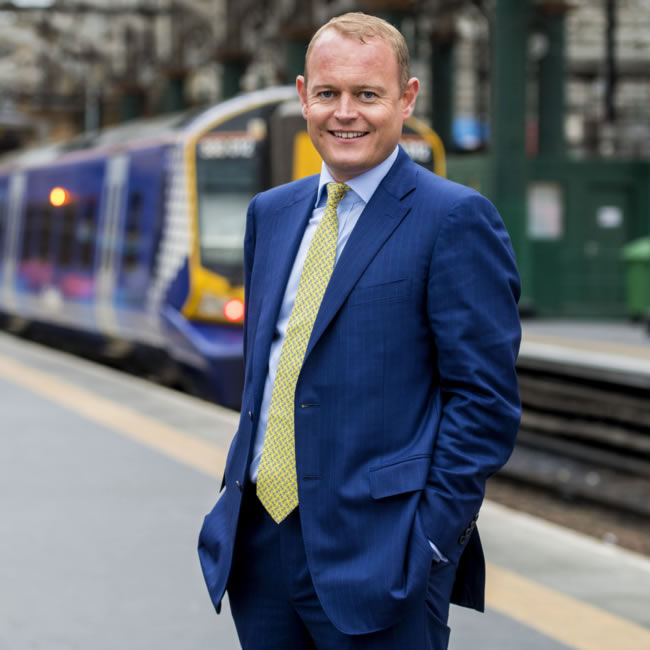 Alex Hynes
Managing Director (Scotland's Railway)
Alex Hynes was appointed Managing Director of the ScotRail Alliance on 1st June 2017. On
24th June 2019, Alex was appointed to the broader role of Managing Director, Scotland's
Railway following further operational devolution to Scotland and will lead the delivery of
Scotland's Railway through the ScotRail Alliance, a unique and industry‐leading partnership
between Abellio ScotRail and Network Rail Scotland.
Before joining Scotland's Railway, Alex was Managing Director of the Northern franchise for
three and a half years where he successfully delivered their best ever customer satisfaction
scores as well as record levels of employee engagement.
An experienced transport professional, Alex has over 20 years of industry experience and a
proven track record of delivering rail improvement and investment programmes.
Having spent his early career as a consultant for Halcrow Fox, Alex worked with the Office of
Rail Regulation before joining the Go‐Ahead Group in 2005 as Strategic Planning Manager
and, in 2007, as Commercial Director at London Midland, and finally, as Managing Director –
Rail Development.
Alex is a member of the Institution of Railway Operators and the Scotland Advisory Board at
Business in the Community, as well as a Fellow of the Chartered Institute of Logistics and
Transport.
He lives in Edinburgh and commutes (by train) to Glasgow.